Ocean Sustainability Solutions
Restoring Biodiversity In The Ocean
In today's world, more than 80% of the population live close to the sea, yet less than 1% of global initiatives are currently seaboard-focused. Recent efforts of comprehensive mapping of our oceans reveal the scale of the problem. Exponential increase in population and coastal developmental impacts has had enormous pressure on our valuable sea resources. The worrying trend already shows a sharp decline in fisheries around the world. We need cleaner water, less pollution and start giving more thought to utilities, landscaping, and marine eco-systems. We need integrated solutions and efforts if we are to create the best possible future for our children.
Haejoo Group aims to direct a spotlight on this vital global issue and provide a sustainable solution by implementing marine farms using purpose-built artificial reef complex to conserve aquatic resources and restore marine habitat.
Team Haejoo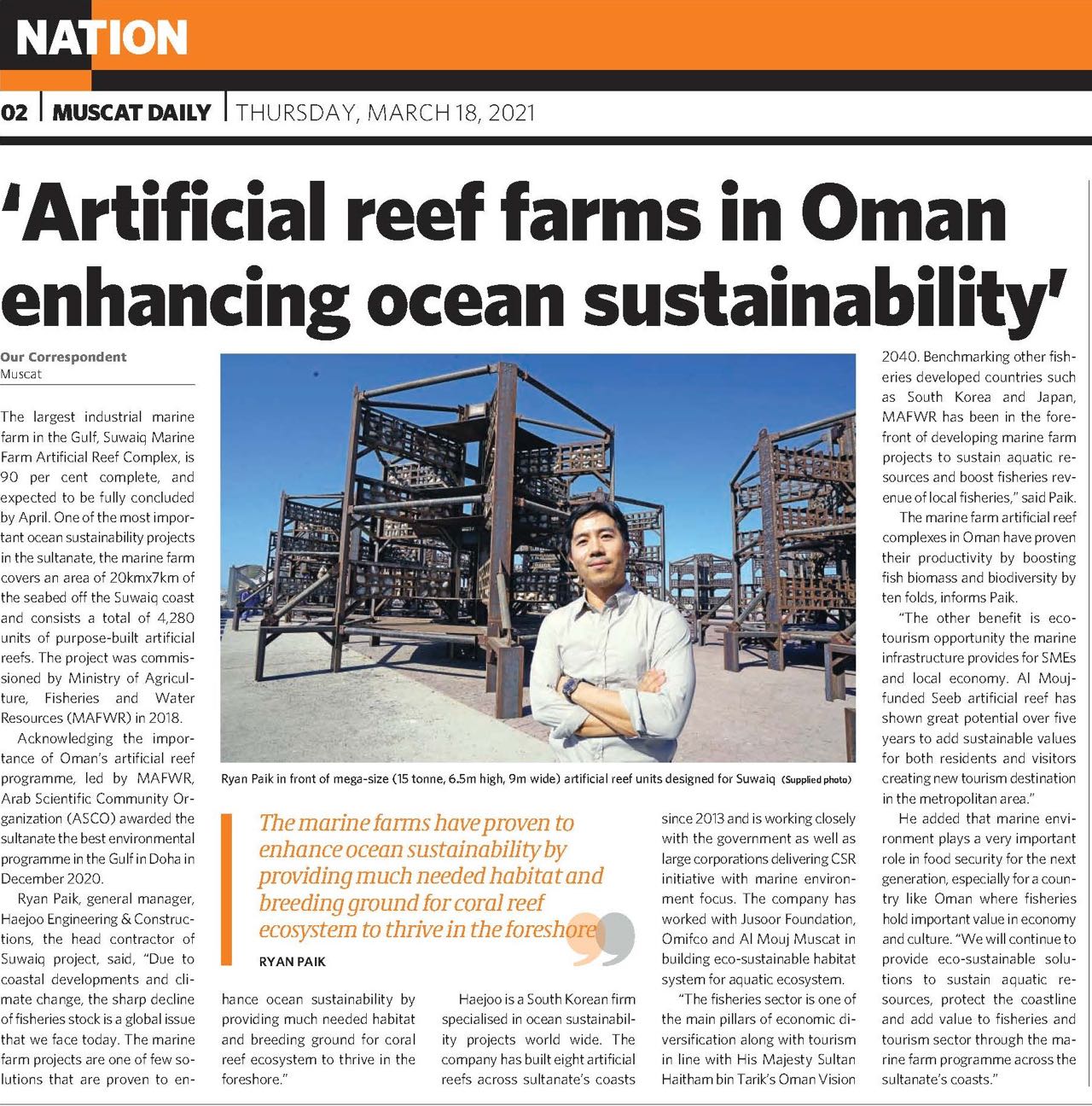 "With a vision to become world's leading expert in purpose-built artificial reefs, Haejoo Group has successfully implemented various artificial reef programs across Asia, Australia and the Middle East in the last two decades."
---
Haejoo Group is now dedicated to providing a complete solution for implementation of sustainable artificial reef programs, working closely with stakeholders, governments, NGOs and companies, whilst aspiring to the highest environmental, sustainability and quality standards from design to implementation processes.
Haejoo Group looks forward to demonstrating our expertise in the successful implementation of marine farm initiatives around the globe in need.
ABOUT US →
---
Purpose-built Artificial Reef
Purpose-built artificial reefs are man-made structures designed to provide ideal habitats for fish and other marine creatures.
They transform areas of low marine biodiversity into ecological hub by providing complex environments that promote the growth of rich ecosystems supporting diverse fish populations. This growth in ecosystem is also known to have beneficial effects on ocean acidification.
Making an effective man-made reef requires sound planning.
Site location is critical in maximising the effect of the reefs whilst ensuring the location is accessible and safe to fish in the prevailing conditions. Reef modules must be designed for the target fish species, each having their suite of preferred shapes, voids, surfaces and profiles. Modules must also be designed for the wave, current and sediment conditions, including cyclonic events.
---
Modern modules are made of steel or reinforced concrete and are designed to last for at least 40 years. Getting all this right takes experience and expertise.
OUR SERVICES →
---
Projects In The Gulf Region
Haejoo ENC have built total 10 artificial reef complexes in the Middle East since 2013 working closely with various government bodies and large corporations in Oil & Gas and real estate sector. In 2021, the Gulf's largest artificial reef project, commissioned by the Ministry of Agriculture, Fisheries and Water Resources, was completed. The artificial reef complex covers 20 by 7km seabed area of Al Suwaig's coast with the installation of total 4280 purpose-built artificial reef units.
READ MORE →
---
Ocean Grown Abalone's
Greenlip Abalone Ranching Research Project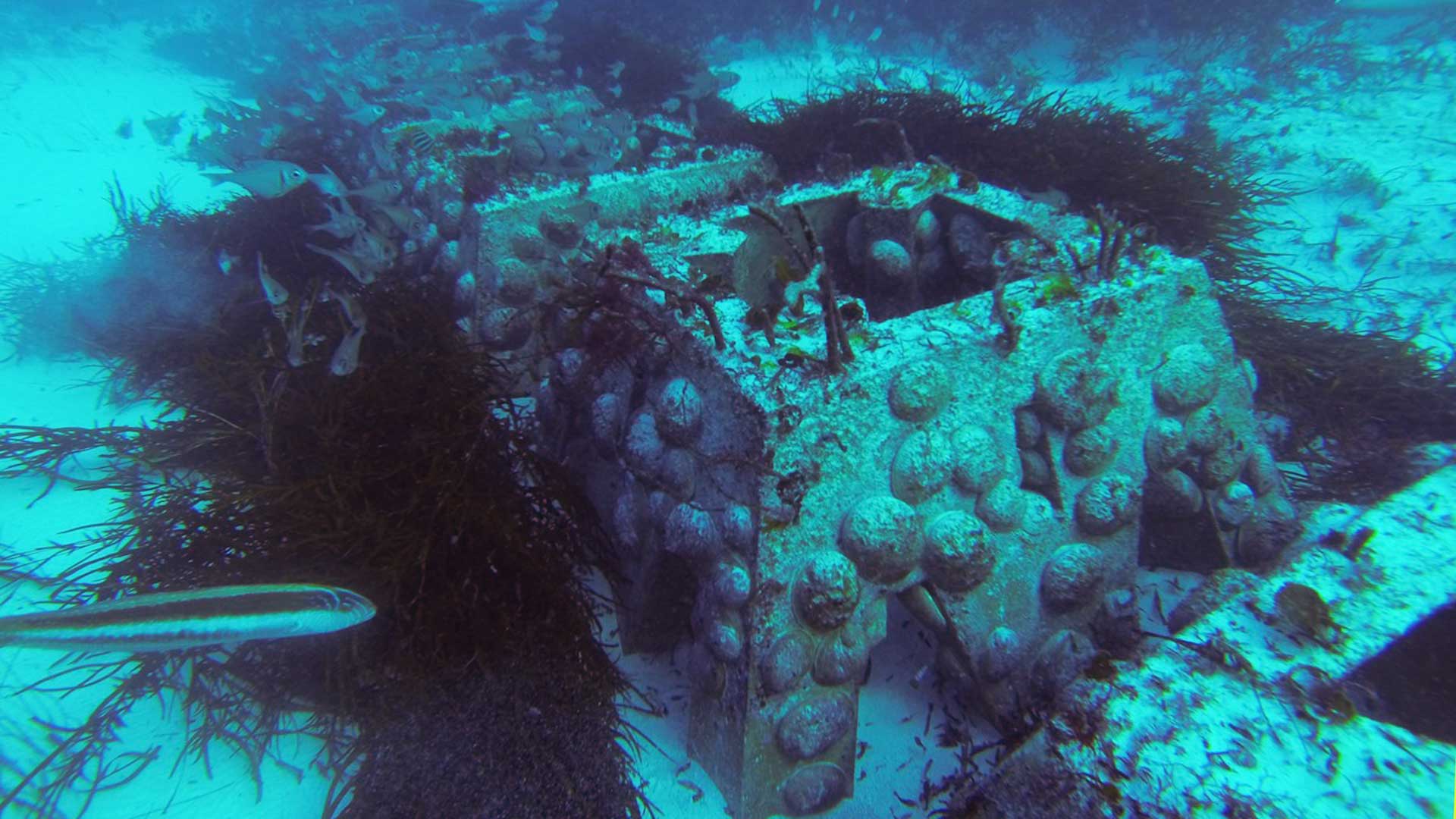 Haejoo Group has designed and produced Abalone Habitat Reef as a part of Augusta based aquaculture company, Ocean Grown Abalone's greenlip abalone ranching research project in Flinders Bay, Western Australia. The customised design creates a total surface area of more than 4.5 metres square, with the potential for a harvest of up to 10 kilograms of abalone per unit per year or about 30 abalone weighing 350 grams. The design includes improved shelter for juveniles to increase survival rates and grooves in the concrete to help trap waterborne macro algae and improve the food supply.
READ MORE →
Our Tailored Services
International artificial reef project management
Design, fabrication & installation of of purpose-built artificial reef
Eco-friendly breakwater reef design for the protection of harbour, marina and beach
A portfolio of internationally patented reef designs to suit a range of different marine environments, target species and purposes
Assistance with site assessment, developing suitable reef designs and constructing an effective deployment map
Stabilisation and restoration of reefs due to dredging and anchoring
Local fabrication of compensatory reefs for developmental impacts and restrictions on recreational or commercial fishing grounds
Social investment: design corporate social responsibility (CSR) program with marine focus
FIND OUT MORE →
Applications of Purpose-built Artificial Reefs
Haejoo Group specialises in eco-sustainable marine farm design and implementation using the purpose-built artificial reef technology backed by in-depth research and development over decades.
CONSERVATION OF AQUATIC ECOSYSTEM
Restoration of marine ecosystem
SOCIAL INVESTMENT
Community engagement, Marine carbon sequestration and Shoreline protection
SUSTAINABLE FISHING AND TOURISM MARKET
Increase tourism revenue
AQUACULTURE
Develop habitat reef for target species in the ocean and provide ideal habitat on restocking program